How to Tell If the Cloud is Right for Your Business
Many businesses shy away from the cloud, thinking that it's mired with threats. But if you use it properly, the cloud can boost your organization's security and productivity. You just have to know how to make the cloud work for you and your employees.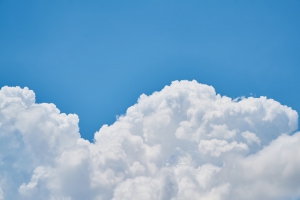 If you're at a loss, we discuss how the cloud works and whether it's suitable for your business.
How does the cloud work?
The cloud is an internet-based platform with a physical infrastructure located in a specific place. It could be in a different city, a different country, or within the company's premises. There are three types of cloud: the public cloud, the private cloud, and the hybrid cloud.
Public clouds are shared and usually less expensive than the two other options. The provider covers the cost of maintaining the platform. It's available in per-usage terms depending on the amount of storage you need.
Meanwhile, private clouds are set in a private data center, usually on the organization's facility. This offers full control and security to the company, though compliance can be challenging. Since the company maintains everything, private clouds are expensive. Still, they can be worth it for large businesses.
Lastly, the hybrid cloud is a collection of both private and public clouds. It offers bigger spaces for businesses during peak hours using the public cloud. On the other hand, they can use the private cloud to store sensitive information. Under this setup, the organization enjoys the best of both worlds.
So which one should you choose? It all boils down to the needs of your business. If you're running projects with no apparent limitations, any of the three will do.
Is it right for your business?
If you want better speed, then cloud integration is no question. It's a scalable and efficient tool, especially for growing businesses.
However, introducing the cloud to your workplace isn't an easy process. You have to deal with the setup, compliance, SOPs, training, and other tasks in between. The key here is rolling out the cloud in several phases. This makes it easier for your employees to digest new information and adjust to the new system.
Before you put your money into cloud infrastructure, you have to consider what processes you intend to run on it. Cloud systems are ideal for projects with no apparent limitations. However, if you're thinking of core solutions and other legacy systems, you have to think twice.
You also have to compare the providers. Some offer package prices for a myriad of inclusions. Others have numerous upsells that will cost more in the long run.
Remember, there's no one-size-fits-all solution in the cloud. You have to customize everything to ensure that it suits your business. Regular consultation with IT experts is also necessary for a smooth transition to the cloud.
Conclusion
The cloud is a powerful tool that's here to stay. More and more businesses are discovering the benefit it can do to their organization. You just have to make sure that the cloud configuration matches your business' needs. It requires a lot of work, but the cloud is a great investment.
https://www.omnipotech.com/wp-content/uploads/2020/04/logo-sized-300x80-2-300x80.png
0
0
Ed
https://www.omnipotech.com/wp-content/uploads/2020/04/logo-sized-300x80-2-300x80.png
Ed
2020-02-07 22:27:15
2020-02-07 22:27:15
How to Tell If the Cloud is Right for Your Business