How to Back Up Your Computer
In this era mired with data security threats, backing up your computer is absolutely essential. You can lose your data anytime and in a snap of a finger. At some point, you might encounter an error in your system, which will cause the unintended deletion of important information. Whatever happens, a backup will save you from data ruin and the problem of retrieving lost files.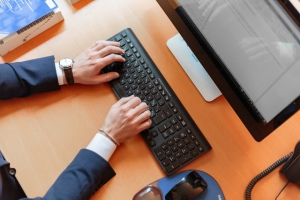 So how do you back up a computer? There are many ways to do this. Remember that the more redundant the backups are, the better. This will give you multiple contingency copies of your data should anything comes to worse.
Here's how a proper backup should go:
Backup on flash drives
For small businesses that can't afford to pay for expensive backups, flash drives are the most convenient and cost-efficient method. Since the backup hardware is small, you don't have to deal with extra storage facility.
The memory is also faster as it works at flash speed. And when you need to access the data or files, you simply plug it into your computer.
Although flash drives are portable, they can only hold so much data. Also, its small size makes it prone to misplacement or theft.
Backup on external hard drives
If you need more memory than flash drives can provide, you can purchase external hard drives instead. You can also sync the external hard drive to your computer so it will be updated automatically. Like flash drives, external hard drives can be plugged into another computer for access.
The biggest benefit with external hard drives is its larger memory space. However, it tends to work slower and could be prone to data loss at some point. Again redundant backups are ideal if you really want to protect your data.
Backup on a cloud storage platform
Instead of using physical backups, you can also consider saving a copy of your data on a cloud storage platform. With a cloud storage platform, you can give access to the files, modify it, download it, and so on. Still, for added security, it's best to encrypt the files to ensure that no one will have unauthorized access over it.
The only concern with cloud storage is its safety, which could be boosted with various security measures. Most paid cloud storage platforms also use a stringent security strategy to guarantee that no one will take hold of your data without your permission.
Backup on internet backup systems
With an internet-based backup, your data will be synced to a third-party platform that will automatically look for changes in your files. These changes will be backed up automatically as the system works at the background.
Unlike cloud storage that requires manual saving, internet backup systems can be set up and allowed to do its job alone.
Final words
Regardless if you have a business, are working on your own, or are a student preparing for exams, it's always important to back up your files. You'll never know when your computer will bog down. Also, a hacker may get into your device and ruin your data. When this happens, you should always have a contingency plan.
https://www.omnipotech.com/wp-content/uploads/2020/04/logo-sized-300x80-2-300x80.png
0
0
Ed
https://www.omnipotech.com/wp-content/uploads/2020/04/logo-sized-300x80-2-300x80.png
Ed
2019-11-07 02:58:31
2019-11-07 02:58:31
How to Back Up Your Computer