A Guide to Office Network Cabling
Network cabling can be a big headache. It's one of the most complicated yet most important parts of your IT. If not placed well, you'll be left with a messy cobweb of cables and a lot of work to do. To skip the hassle and guesswork, we discussed here a short guide you can use for your office's network cabling: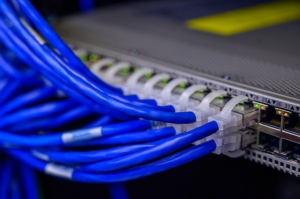 First things first: make it identifiable
Before you even plug those cables into their respective ports, make sure that you've placed an identifier. You might think that you have remembered everything, but once all the cables are in place, you'll barely be able to pinpoint which is which.
We recommend using either color-coding or labeling. You can use different cable colors or attaching a label to each one, so everyone will know what its purpose is. This will make troubleshooting much easier in the event of a glitch.
Get the right length
Don't you just hate it when your cable runs shorter than what you need? As much as going long might be tempting, the excess length isn't always ideal. Some cables offer better signal when they are the shortest possible length.
So if possible, spare the extra and stick to the length that you actually need. Aside from optimizing the signal, you're also reducing cable clutter in your office.
Always opt for high-quality cables
Some companies that cut corners in their IT department will usually purchase the cheapest cables in the market. Although you may not notice a physical difference with the expensive versions, its performance will surely reveal the quality.
If possible, use Ethernet cables as these receive better signal than other cables. Also, you should choose the right cable for the specific speed that you need. Sometimes, you'll end up under-utilizing your resources due to the wrong cables.
Structure your cables
In everything that you do in your IT department, planning is always the key. This will reduce the time you need for cabling while preventing any glitches.
Structured cabling offers better performance, but it could be difficult to deal with if you don't have an expert on your business. The process will include engineering, installation, and inspection. All of which requires a specific set of skills.
Organize your server rooms
Are you familiar with those dark server rooms where only the IT guy has access to? This is the setup you should avoid. Server rooms should be fully lit, organized, and squeaky clean to ensure that your system is on top shape.
Remember that a big part of your operation depends on this room so you should always maintain it well.
In doubt? Tap the help of an expert
If you don't have the technical resources to handle the cable installation for your office network, you can always tap the help of professionals.
Final words
Setting up your office network cables is a daunting task. Still, you can plan it out to avoid the cable mess of other businesses. Also, if you don't have the skills, you can always hire someone else to do it for you.
https://www.omnipotech.com/wp-content/uploads/2020/04/logo-sized-300x80-2-300x80.png
0
0
Ed
https://www.omnipotech.com/wp-content/uploads/2020/04/logo-sized-300x80-2-300x80.png
Ed
2019-11-07 02:55:19
2019-11-07 02:55:19
A Guide to Office Network Cabling